Gem Swimwear
Hey My Tan Lines Bikini Babes and happy Monday!
We all know Monday is my FAVORITE day of the week, it's the day to hit refresh, and set the vibe for an amazing week ahead! You know what this particular Monday is also for? It's for sharing with you guys one of my latest favorite swimsuit companies!
You TLBB Babes may not have heard of Gem Swimwear before, why is that? Well, Gem Swimwear is pretty much a brand new company!
I love supporting companies who are larger and more established, but it's also really fun to work with brand NEW companies that I really see potential in and to watch them grow is so much fun!
A few questions for the company, answered by Gem Swimwear owner, Lily.
How did you come up with the name, Gem Swimwear?
"I wanted to create a name that was short, sweet and memorable. I believe Gem Swimwear falls into all these categories. But behind a short name I wanted to make sure to share an important message. That we are all unique and precious like a gem stone. That every shape, cut and curve is unique to you and it should be embraced and celebrated. "
What made you want to start this business?

"I created Gem Swimwear as a way to express self love. Gem Swimwear is more than just a product. Its a brand whose goal is for women to feel at ease in their own skin and celebrate their bodies. To create a wonderful tribe of women who are daring enough to love themselves, empower and celebrate one another while embracing their uniqueness. Many express themselves through art, music, poetry, but creating a swimwear brand that allows women to feel confident and sexy is my goal!"

Where did you find your fabric? IT'S SO SOFT! Where are your suits made?

"Gem Swimwear fabric is sourced in Los Angeles, Ca. Everything from fabric, samples, pattern marking/grading, cutting and sowing is made in LA. I wanted to create a swimwear brand that is ethically hand made and sweat shop free. Each piece has been created to perfection with the help of my amazing seamstress. "
What is the motto of Gem Swimwear?

"We embrace and celebrate every shape, cut, and curve that are unique to you."
" You're a gem of a kind"

Xo, Lily.
Simple and straight to the point.... Collection Perfection.
Gem Swimwear has two different main styles; and each of these different styles can be mix and matched with each other! These two different suit styles also come in three different color ways, a red, a blue, and a blush pink!
- A Bandeau Top, the Heather Top
- A Sports-Style Top, the Dahlilah Crop Top
- Simple Side String Bottoms, the Dalilah Full Bottoms
- Basic Seamless Cheeky Bottoms, the Heather Bottoms
I personally love wearing the Heather Top in Blush Pink with the Heather Bottoms in Blush pink, but also love mixing it up and wearing the Delilah Drop Top in Fiji Blue with the Heather Bottoms in Fiji blue, SO cute!
Another aspect thats really fun other than being about to switch the different styles in the same color, but yo can also mix and match the different COLORS! I personally love the blush pink color way mixed with the fiji blue color way! It reminds me of cotton candy and its so perfect together!
Also, Gem Swimwear allows for the mix and matching aspect of suit because all of the pieces are sold separately making it really easy to grab the top you want along with your bottom choice!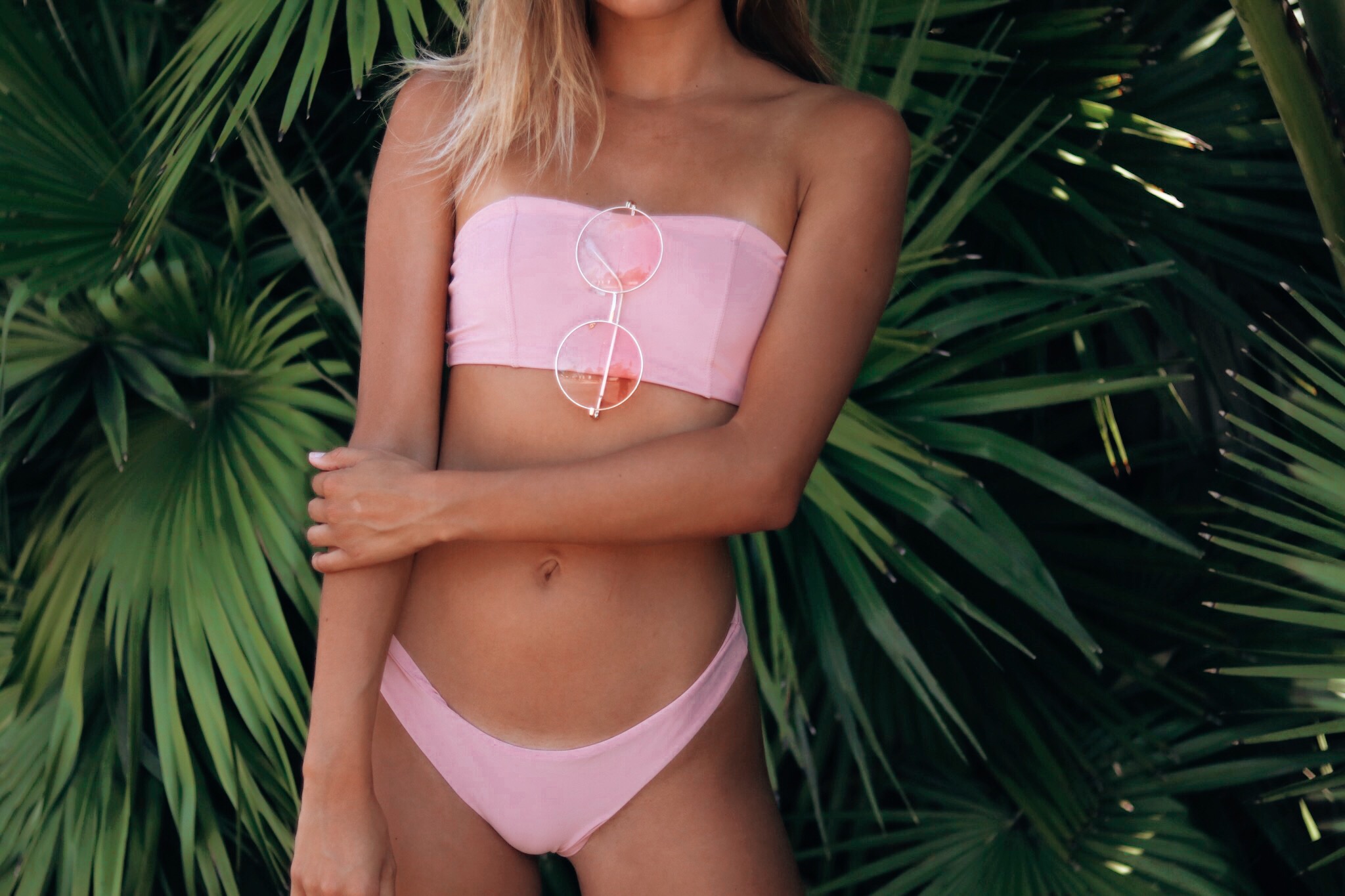 This is the Heather Bandeau Top and the Heather Bottoms worn together.
This is the Dalilah Crop Top worn with the Heather Bottoms in Fiji Blue!
This is the Dalilah Crop Top paired with is Delilah Full Bottoms in Blush Pink.
Dalilah Crop Top x Heather Bottoms in Fiji Blue
This suit is one that I mix-matched the styles and I LOVE how it looks together! This suit is the best of comfort and looking super cute on the beach.
The Dalilah Crop Top here is the same one that I talked about in the above photo, but this one is in the gorgeous Fiji Blue color!
These bottoms are the Heather Bottoms, they're a seamless design and have cheeky coverage on the butt.
I love the way these tow pieces look together and I highly recommend getting these pieces as a set!
Dalilah Crop Top x Dalilah Full Bottoms in Blush Pink
This suit just might be my favorite; from the color, to the bottom design, to the style of the top, I'm truly in love.
This is the Dalilah Crop Top which has the perfect "sporty" front, and the perfect back straps! I love that tis trop can be worn for any beach, swimming, or hiking adventure!
The bottoms are the Dalilah Full Bottoms, you guys probably know how I am with bikini bottoms, the smaller the better, right?
But I actually LOVE how these "full" bottoms fit! There definately fuller coverage but they're seriously so flattering.
Heather Bandeau Top x Heather Bottoms in Blush Pink
I normally am not too into bandeau tops, but I really wanted to give this one a try and I'm so happy I did! I actually wear this top as an actual top, paired with shorts or skirts, it makes for the cutest little top for outfits!
Needless to say, the Heather bandeau Top is a win for me. I love the gold detailed clasp in that back, just so you know all of the tops from Gem Swimwear have gold clasps in the back. With much experience, and dealing with all kinds of swimsuits from all kinds of brands, I can tell you that these clasps are of the upmost quality. They're sturdy metal, & they actually clasp and lock shut. I'm sure some if you have run into the unfortunate event of cheap clasps, unclasping.. not good.
Gem Swimwear clasps DO NOT do this, I was seriously so impressed so I really wanted you guys to know that too!
As for the Heather bottoms, these are the same bottoms that I talked about in the Fiji Blue color way, these are just in the Blush Pink!
As far as I'm concerned, Gem Swimwear definitely meets all the criteria as Tan Lines Bikini Blog Approved bikinis and company as a whole. This company has a beautiful message to share, is ethically and locally made, the quality of these suits are perfection and I honestly love Gem Swimwear so much!
I really hope you babes enjoyed reading this blog post and make sure to checkout Gem Swimwear too!
Until next time my Tan Line Bikini Babes..
XX Melly the Gypsea