Summer 2018 Top 10 Kini Companies
With summer time just around the corner, I knew it was just time to share my current brand OBSESSIONS, as well as their kinis that you're going to want to be rocking at the beach this summer! So today you're going to be reading about my current top 10 favorite brands. Everything from larger, more established companies, to smaller and growing! One thing all of these amazing companies have in common is they were all dreamed up and are created by a single person, some turned into family operations and they're ALL, truly amazing teams of people!
These companies are being listed throughout this blog post in no specific order. I'm simply sharing the uniqueness of each brand, as well as their similar passion; that is, gorgeous and beautifully made swimwear.
10 Swimwear Companies You NEED To Be Wearing This Summer.
Midori Bikinis, a company you all know I love seriously so much! Based in sunny California and inspired by the tropics, they're a company after my own heart. Midori's quality is on point, the make of the kinis is perfection, and the styles and patterns are to die for! I really don't think it gets more perfect than their "Island Honey Collection". Midori Bikinis is a company built on empowering women to feel confident, to be proud of the way they look, who they are and I definitely see that light shining through them. I actually did an entire in-depth review on Midori Bikinis "Island Honey Collection" and you can read the specifics on each piece HERE.
My particular FAVE kini set from this collection is the Hana Top in Mango and the Kai Bottoms in Mango! Kini Perfection!
Price Range || Bottoms $60 - $64 || Tops $64 - $68
Instagram || @midoribikinis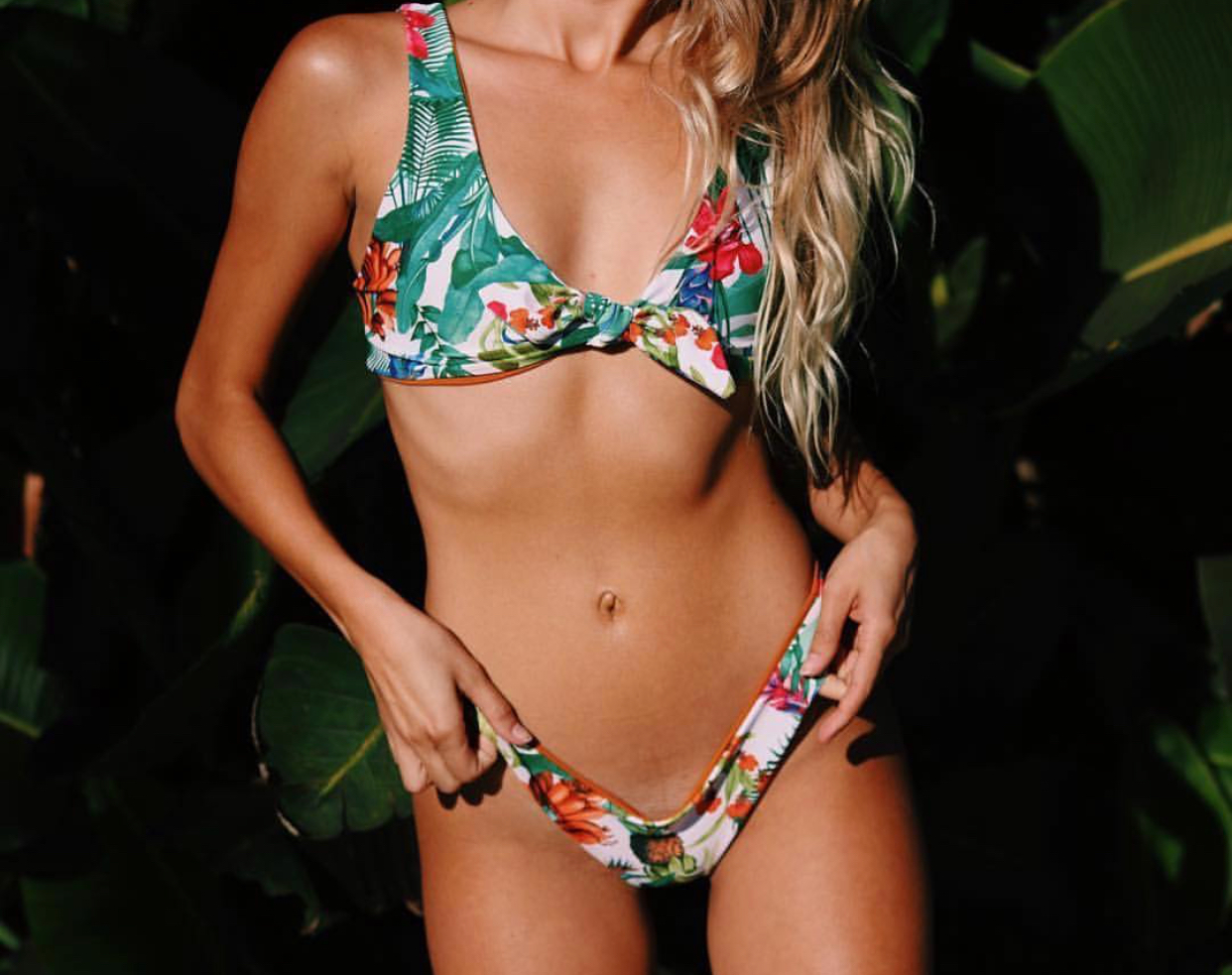 Meraki Swimwear is a rad little handmade kind company based out of Florida! Boss babe, Karrah does it all, and she's does it so well! These suits are oh so beautifully made, each piece is perfection! With a fun mix of bold tropical patterns and stunning solid fabrics Meraki Swim produces some STUNNING and high quality kinis!
In the above photos, you can see me wearing the Burnt Orange Rust/Tropical printed bikini top along with the Brazilian Cut Burnt Orange Rust/Tropical printed bottoms!! I ADORE this set but I highly recommended checking out Meraki's Etsy to see ALL of the amazing suits!
Price range || Bottoms $37-$47 || Tops $37 - $47
Instagram || @meraki.swim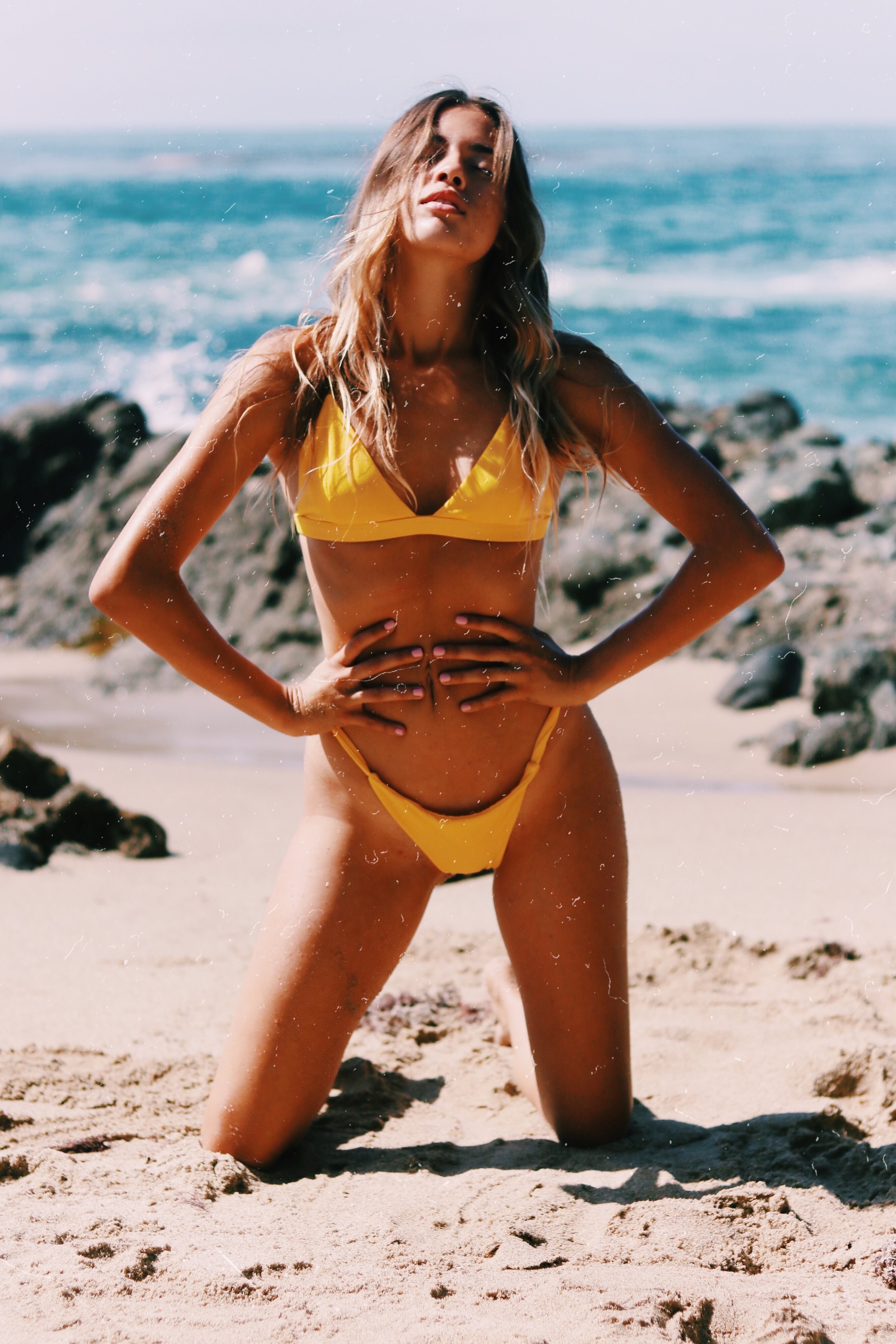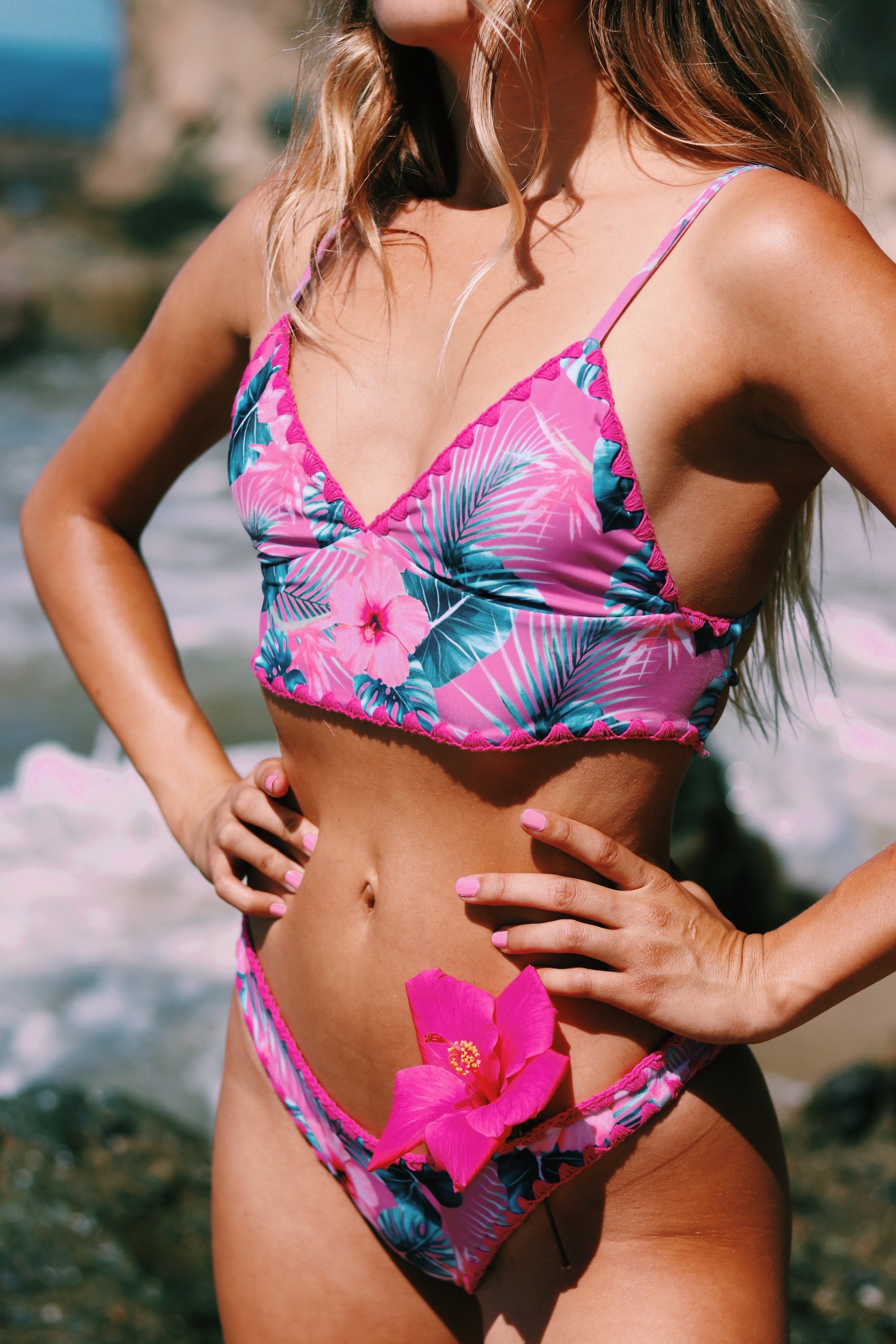 Mahkia Kinis is another amazing East Coast brand based in Florida! Owner and Designer Kelly, searches for bold colors, patterns and even works with mega talented graphic designers to produce unique, & eye catching tropical patterns for fabric! All of these kinis are designed with love in Florida and then handmade in Bali! - AMAZING RIGHT? These Kinis are made for babes who love the ocean and they're designed to stay on in the roughest of conditions! I adore this company and their stunning tropical printed kinis. Mahkia Kinis are seriously so stunning, the quality is all there and even better, these bikinis literally only cost $40 per set! At $20 per top and $20 per bottom you get an affordable, yet amazing quality and totally beautiful bikini!
The 2018 summer collection will be coming out soon for Mahkia so keep your eye out for those amazing pieces! In the mean time, check out my favorite set from Mahkia's Spring '18 Collection! The Haiku Pink Plumeria Top and the Maui Pink Plumeria Bottom are seriously one of my favorite bikinis! I took this suit with me to Maui and wore it every day at some point when my other main kinis were wet!
Price range || Top $20 || Bottoms $20
Instagram || @mahkiakinis
Solkissed Swimwear is a HOT swimwear brand that withholds a colorful, fun, and vibrant line of bikinis while allowing affordable prices at a designer quality! This brand was dreamed up and created by a Peru born, Cali raised boss babe. This swimwear line totally ties together three unique components; Latin vibes, Cali living, and New York's fashion sense. Solkissed is ran in the USA by owner/creator, Alejandra Boggiano, and in Peru, by her momma. I personally adore this company not only for its unique and eye catching suits, but also for their mission. Solkissed is committed to working with women entrepreneurs who work from home (sewing stunning bikinis) while also supporting their families needs. I have been loving this brand for the last year or so, so it makes me so happy to be able to share them with you guys!
My personal FAVE kini from this companies current collection has to be the Chloe Bikini Top in Polka Dot paired of course with the Chloe Bikini Bottom in Polka Dot it's so girly and fun!
Price range || Tops $75-$79 || Bottoms $69-$74 || One Pieces $79-$169
Instagram || @solkissed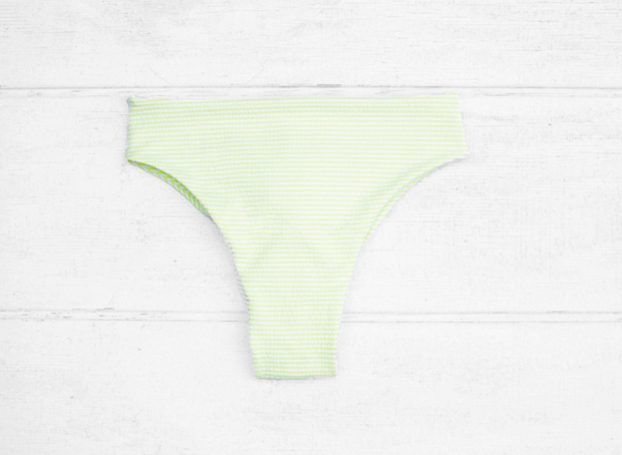 Pelican House is a California raised and local kini company thats passion is to better our planet and to make less of an impact on it than we already do. This company is committed to making sustainable kinis that play a role in helping ocean conservation and island habitat restoration, which I think is seriously so rad! Pelican House SC not only donates 10% of all profits to island conservation projects, but they either use deadstock fabric (which is the leftover fabric made by huge companies that they don't end up using and would otherwise end up in a landfill) or they use ethically made fabric from Italy made out of recycled nylon waste! You can read an in-depth explanation of their consciously made swimwear, HERE. I personally love Pelican House bikinis because of the amazing buttery soft fabrics, and the EXTREMELY well made suits! They're literally perfection!
My personal FAVE kind from Pelican House has to be the Manui Bottoms and the Palmyra Top in any color way! I just absolutely love the cuts and fit of these pieces!
Price Range || $60-$80 Per Top/Bottom
Instagram || @pelicanhousesc
If you've been following me on Instagram for while then I'm sure you'd know of another company I am MEGA obsessed with, and it is.... Lali + Layla Swimwear. I talk about them all the time in YouTube videos, I'm always posting photos in them, and sharing them as much as possible cause they are totally in my top 5 all time fave bikini companies! Lali + Layla is known for their AMAZING color ways, prints, patterns, and daring kini styles that are all custom and original! Each suit is thought up and/or brought to life in one of the two locations that they are based in! That is, NYC and Tulum, Mexico! Each suit is ethically hand made, one by one, and allows fair and honest wages to their amazing seamstresses. I have never been more amazed by a company as I am with Lali + Layla, this company is always doing something new and producing bold, amazing styles for bold, amazing babes!
My FAVE kini by Lali + Layla that I own and highly recommend is the Daphne Top and the Jasper Bottoms in Birds of Paradise/NY Noir, the fit of this suit is so flattering. The Jasper bottoms fit and hug your body like a dream and the Daphne top is a bikini show-stopper. A few pieces that I am OBSESSING over and have yet to get my hands on are, the new Saki Bottoms in Seaglass (perfection) and any of the stunning pieces in the new Hollaback/Sweet Escape patterns! (They're so gorg. Please check them out! I promise, you'll be in love)
Price range || Tops/Bottoms $59-$69 || One Pieces $139
Instagram || @lali_and_layla_swimwear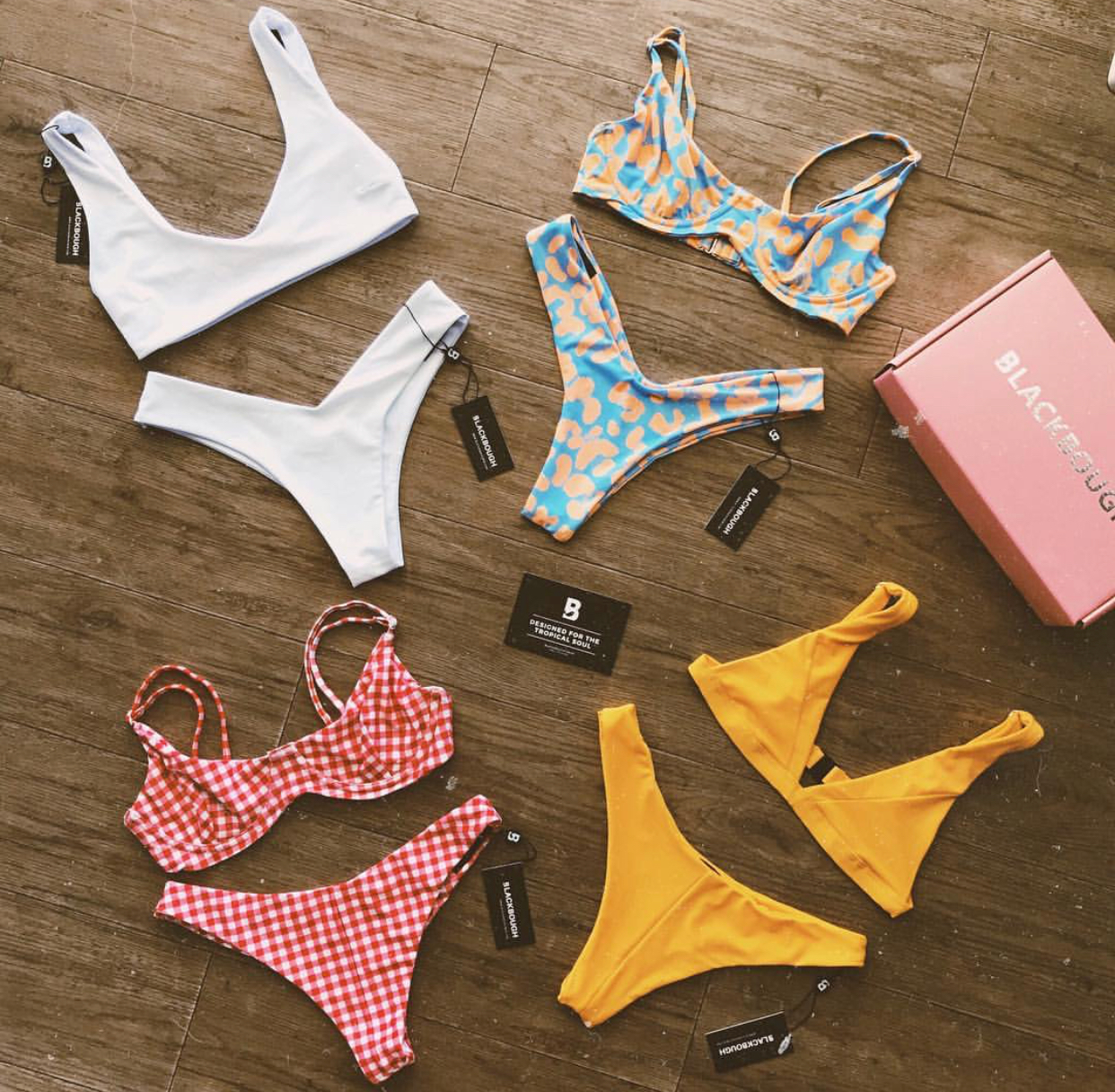 Another company that is one of my ALL TIME faves, is Black Bough Swimwear, they have the hottest styles, cutest prints, color ways and amazing prices!
(I did an in depth review on Black Bough Swimwear's Resort 2018 Collection, if you'd like a better look into kini specifics, click HERE to read that blog post!)
I've been working with this company almost since the very beginning of their journey and it has been so amazing to watch them evolve into what they are today! They're growing so much and so quickly, KILLING it at everything they do! Black Bough is based in the Philippines and was founded in 2017 after the desire to create the perfect kini. Today they aren't just creating the perfect kini, but creating a TON of the perfect kinis!
My FAVE kini set from the resort collection has to be the Zoe Top and Zoe Bottoms in Candy cane. I loved the fit of this bikini and the adorable striped, retro vibe.
Price range || Tops/Bottoms $40-$45 || One Pieces $85
Instagram || @blackboughswim
Mizuchi Swimwear is a company that I have been in love with for a while, but it wasn't until recently that I had the opportunity to work with them! Mizuchi Swimwear is a gorgeous collection of crochet and Lycra pieces, this company creates bikinis that are all so stunning and true pieces of art work.
I recently did a tropical styled shoot for them as well as a review of their current swimwear collection, and you can view the blog post for it HERE.
My FAVE kini by Mizuchi Swim is from their Flora and Fauna collection, it's the Eve Crochet Top and the Eve Crochet Bottoms in 'White'. I love this bikini because its a stunning crochet suit, but it's also lined with lycra and has lycra straps with make it extremely comfortable!
Price range || $55-$78 per Top/Bottom || $149-$159 for One Pieces
Instagram || @mizuchiswimwear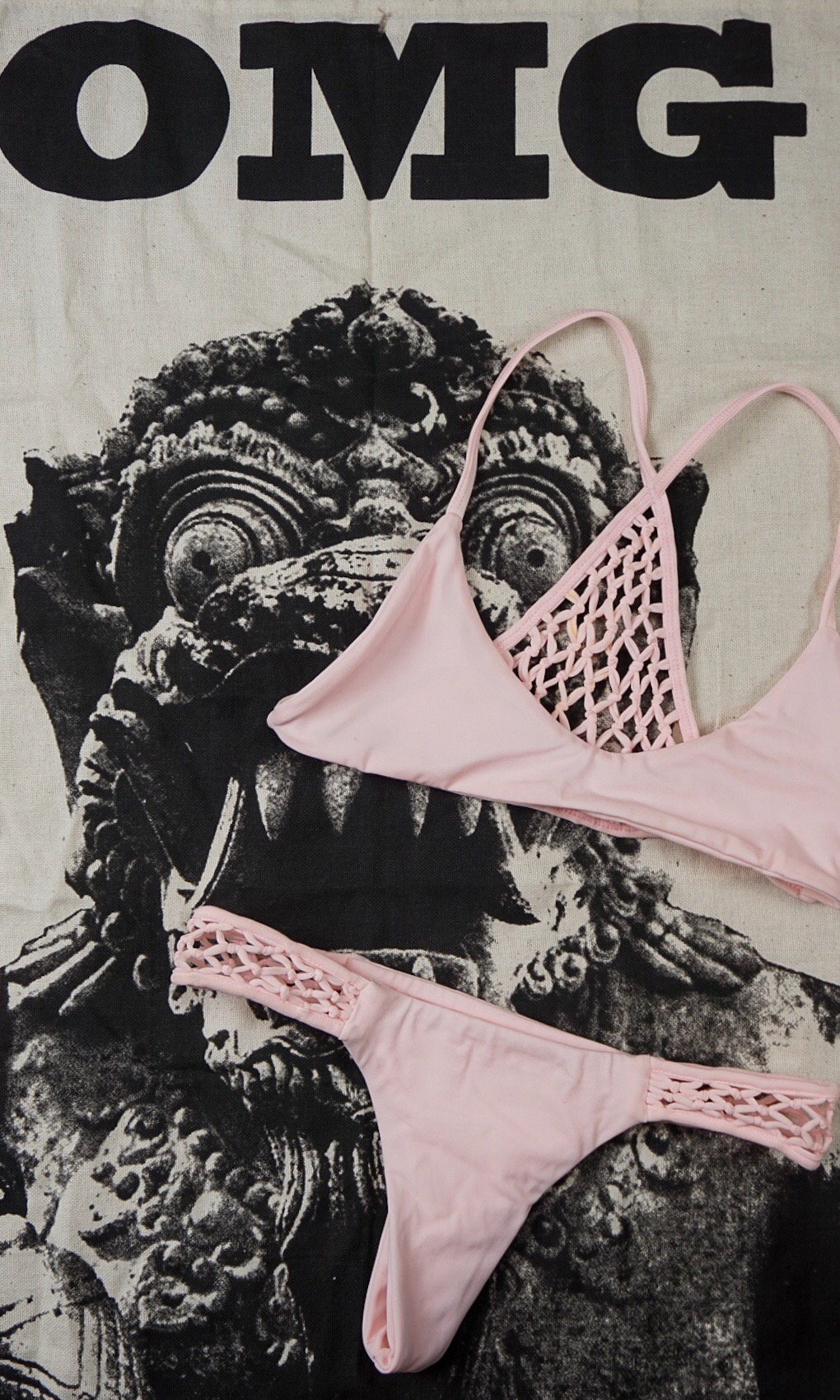 Rhea Bikinis, an amazing brand based on the North Shore of Oahu, inspired by the island and mother earth and I'm all for it. I recently came across Rhea Bikinis and I'm so pleased that I have. I thought this company was so cute and had really fun pieces, it wasn't until I was doing research on them that I learned they were so much more! Rhea Bikinis is a brand built on taking care of the planet that we get to wear our bikinis on. They're determined to make a difference with their company and the way they're doing so is truly amazing. There were 3 designs brought to life and each one was choosen to represent a different cause. With the purchase of a ' Honeycomb ' printed suit 5% of the purchase goes to Planet Bee Foundation, the purchase of a ' Honu ' printed suit allows 5% of that purchase to benefit the Hawaii Wildlife Fund, and lately with the purchase of a ' Splash ' printed suit 5% of the proceeds will go towards ocean conservation efforts! I seriously love this unique was of giving back and I find it absolutely brilliant! (Read more on "A Rhea Purpose") I love it when companies are able to give back to causes that really resonate with them and their customers! There's nothing better than being able to support a small business and give back in some way, WHILE getting yourself a little gift!
My absolute FAVE suit from Rhea Bikinis is the Athena Top in Honecomb paired with the Maile Bottoms in Black Sand! I love Rhea's teeny bikini bottoms and detailed pieces!
Price Range || Tops $70 || Bottoms $65
Instagram || @rheabikinis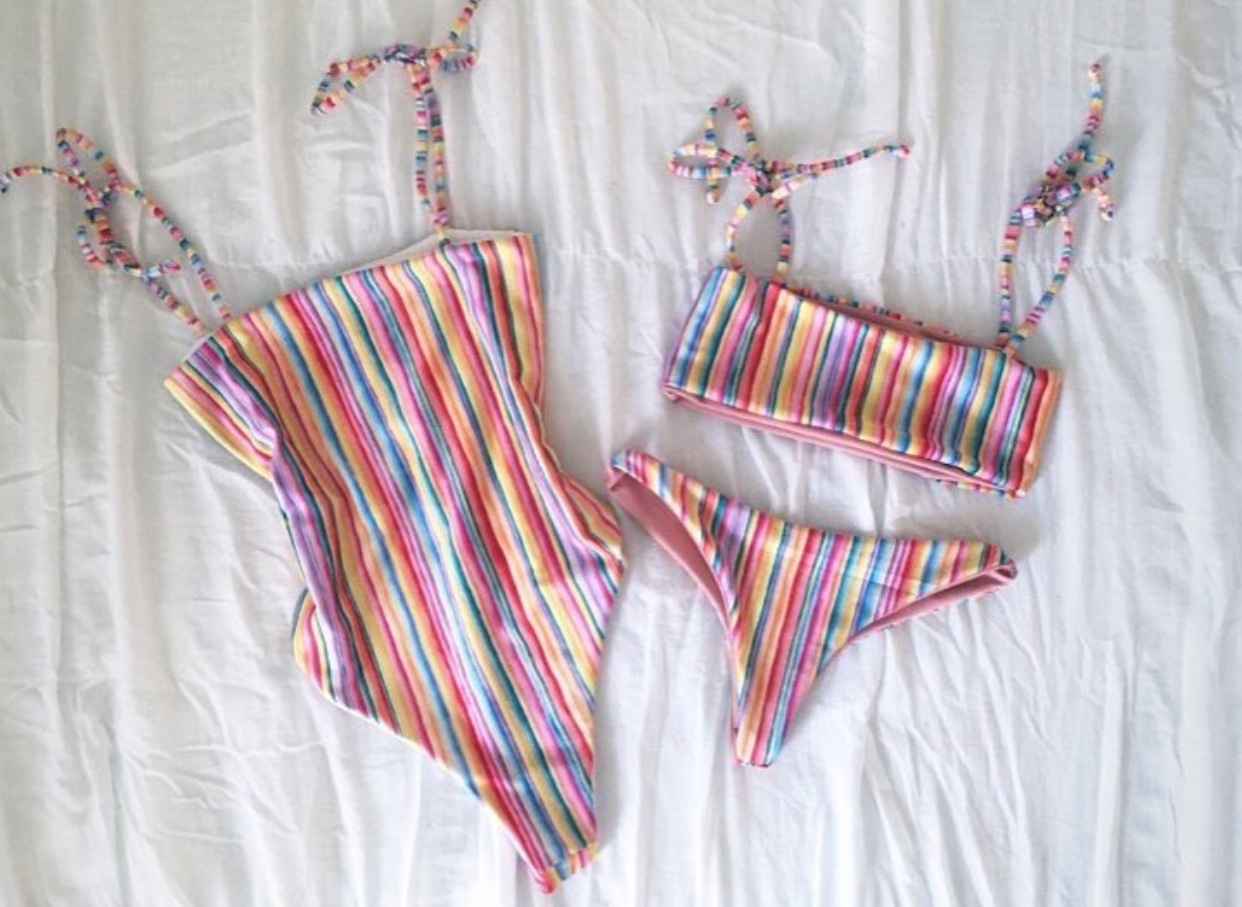 Sundia Swimwear is a company that I have loved for a couple years now! I've been working with her since the beginning and this is a company that I've enjoyed watching grow so so so much! Sundia Swimwear is based here in California and creates MANY handmade and stunning pieces. I absolutely love the diversity of the patterns and color ways that the owner and designer, Patty, brings on board. Not only does Sundia Swimwear provide beautiful patterns, color-ways, as well as on-trend and unique styles to the bikini world, but all off these bikinis are extremely affordable! All of the sets and one pieces are under $100 AND, she even has pieced together an entire page to shop of "$30 and Under" bikini separates! HOW GOOD IS THAT?! I say Sundia Swim is WINNING in the killer-quality and amazing prices category and I HIGHLY recommend babes!
My personal FAVE kinis from Sundia Swimwear's current collections are of course the Hawaii Set and the Tropical Triangle Set. The patterns on both of these suits are so gorgeously tropical and the styles of the suits are insanely cute!
Price range || Sets $30-$85 || One Pieces $70-$85 || Separate Tops $25-$40 || Separate Bottoms $18-$35
Instagram || @sundia_swim
Wow! So many amazing brands, right? I seriously love all of these brands even more after writing this, this blog post has truly opened my eyes even more to the amazing world of swimwear. The passion, the people, the creativity, I love it all! Everyone has a beautiful story to share, a case to support, and a dream they're following! I'm so thankful to be able to work along side all of these amazing companies and I seriously love what they're all bringing to the table in the bikini industry! It's swimwear so yeah, they're "similar" but in reality they're all SO different!
Anyways, I hope you guys enjoyed this blog post! I have had so much fun working on it and learning more about each and every brand involved!
Please make sure to check out your favorite companies, that you came across, websites and follow them all on Instagram! You won't want to miss out on what these companies are doing next, I promise!
If you'd like more blog posts like this them PLEASE comment below! I have plenty more ideas up my sleeve, I'd just like to know you guys's opinions!
Talk soon my TLBBabes
XX Melly The Gypsea