Bali Body Product Review
I recently filmed a YouTube video on this topic but I know a lot of you prefer reading blog posts so I wanted to gather all of my main points in a blog post for you reading babes!
SOOOOOO, I'm sure many of you have come across @balibody on Instagram. A feed filled with bronzed babes, and very aesthetically pleasing packaged tanning oils. So many wonder, is it worth it? I'm here to say YES!
Bali Body... Is it worth the hype?
GIRL. YES!
I first fell in love with Bali Body, I'd say about 2 years ago. I remember it was Christmas time & I asked my brother if he could buy me Bali Body for my present, I would have asked my mom but she was busy buying my bikinis (this was before I ever worked with companies..) so I wanted all the Instagram worthy summer essentials!
Any ways, I got the Bali Body, it was the Natural Tanning and Body Oil, & this was when the packaging had the spray bottle top and there weren't other oil options. I LOVED it then, and through the years of watching this company morph into what it is today, I love it even more!
Today Bali Body is a tanning range and has also incorporated natural skincare!
Now, its always been super important to me that I know what I'm putting on my body when it comes to skin care and make up. I prefer natural ingredients and the simpler, the better. Bali Body is all natural and vegan, and never tested on animals, only on the Bali Body babes themselves.
I have been collaborating with Bali Body for the last few months now & its been SO great. I love ALL of their products and I want to share with you why! I truly stand by this company, their products, and their purpose. They're so much more than tanning oils, and they truly care about everything that they're doing.
I recently went on a trip to Maui and took my Bali Body products with me! Each of the products I brought along served an amazing purpose and I highly recommend. I personally tan really easily with out tanning oil but with my Bali Body products I can achieve a PERFECT deep tan really quickly or during the chillier months I can still be glowing with Bali Body's sunless tinted lotions & BB creams.
Tanning Oils
All of these tanning oils serve as a dual purpose skin care item for me. I obviously use them as a tanning oil, but I also use them as a moisturizer for my body and face!
One of my favorite things to do with these oils if I'm not actually going to the beach is to throw the oil on and wear it throughout the day! I love going on runs and wearing my Bali Body knowing that I'm keeping my body healthy with the run and also moisturizing my skin with giving it some sun!
This tanning oil is EASILY my favorite one because not only does it give you the perfect tan after a day in the sun (or just a few hours), but it's also a tinted oil. Meaning, the moment you put the oil on it's already giving you a bronzed glow.
This is the original oil that made me fall in love with Bali Body and for that reason it will always have a special place in my heart. I love the new oils but this one is so perfect for every day tanning and moisturizing your skin!
I absolutely LOVE the watermelon tanning oil because it smells SO GOOD. (also, how cute is the pink bottle?!) Another added bonus is that the watermelon seed oil in this tanning oil is not only organic, but it is also has minerals and antioxidants in it to nourish your skin!
Skin Care by Bali Body
Bali Body's skin care ranges from lip balm, to tinted moisturizers, and BB creams. They've got our skin covered, quite literally speaking!
The Shimmering Body Oil is UHHH-FREAKIN-MAZING. I already love applying BB's oils to my skin, I feel like they're the most hydrating and moisturizing. They're already amazing! Especially when your shooting all the time like I am, a swimwear shoot is nothing without a golden bronze, oiled up bod. Here it is, the oil of oils, the SHIMMERING BODY OIL. I love this oil so much, obviously it gives you the perfect moisturized, oiled bod, but theres more, it has GOLDEN GLITTER in it! Like WHAT?! Can it get more perfect than than? Nope, I don't think so!
If you're a babe who lives in in a colder area, and might not be able to lay out and tan whenever you'd like, then this is a gift to you from the tanning gods. I usually am always pretty tan year round so I haven't really used a tinted moisturizer or fake tan before, BUT I love this stuff! Not only does it moisturize your skin with vitamin E and other natural oils, but it gives you a nice added bronze tint! I even like to apply this on top of my tan to deepen my tan and moisturize my skin! ALSO, yet again, HOW GOOD, is this packaging! I love it sooooo much!
If you know me or have followed me for a wile you know I really don't like makeup on my face. I am totally down for some eyeliner and mascara, but other than that you'll rarely see me with a full face of make up on. Pertly because I hate the way makeup feels on my skin and mainly because I have no idea how to do makeup and I am no makeup guru.
When I do wear a make up product on my face its ALWAYS Bali Body's BB Cream. This stuff is amazing, not even kidding, I'm not just saying it so say it, but, I LOVE the BB cream. It's the perfect amount of coverage, it feels so good on my skin, and its super light weight. Another great benefit to this BB Cream, is that is has SPF 15 in it! Bali Body wants to keep us bronzed and glowing while also keeping our skin healthy and protected!
I am OBSESSED with lip balms, chapsticks, and any form of moisturizing product for your lips. Which also means I am super particular about the products I use on a daily basis and I'm always on the lookout for new lip products.
Let me tell YOU, this stuff isn't amazing just because it say Bali Body on the packaging. This stuff is amazing BECAUSE IT'S AMAZING. It has SPF 15 in it as well to keep you moisturized and protected from the suns rays.
I use this product EVERY SINGLE DAY, probably like 5-10 times a day and I am going to be SO SAD when it runs out. It is definitely one of my daily life essentials!
Best way to buy : BUNDLE & SAVE $
Personally, I couldn't just pick one product from Bali Body, I'd need multiple as I love all of these. Buying each product one by one is fine, but If you can find a bundle that has majority of the products you want in it is so much better! Not only do you save money when buying a bundle, but you also get the SUPER cute travel case!
I have the Fan Fave Bundle , in the Fan Fave you get the Coconut Lip Balm, Bronzing lotion, BB Cream, and Watermelon Tanning oil all for $99.95! If you were to buy each of those products separately you'd be spending about $130 total!
I personally love the Fan Fave because you get full body skin care. You get a lip balm, the BB cream for your face and an oil and tinted moisturizer for your bod! Its an all in one perfect bundle!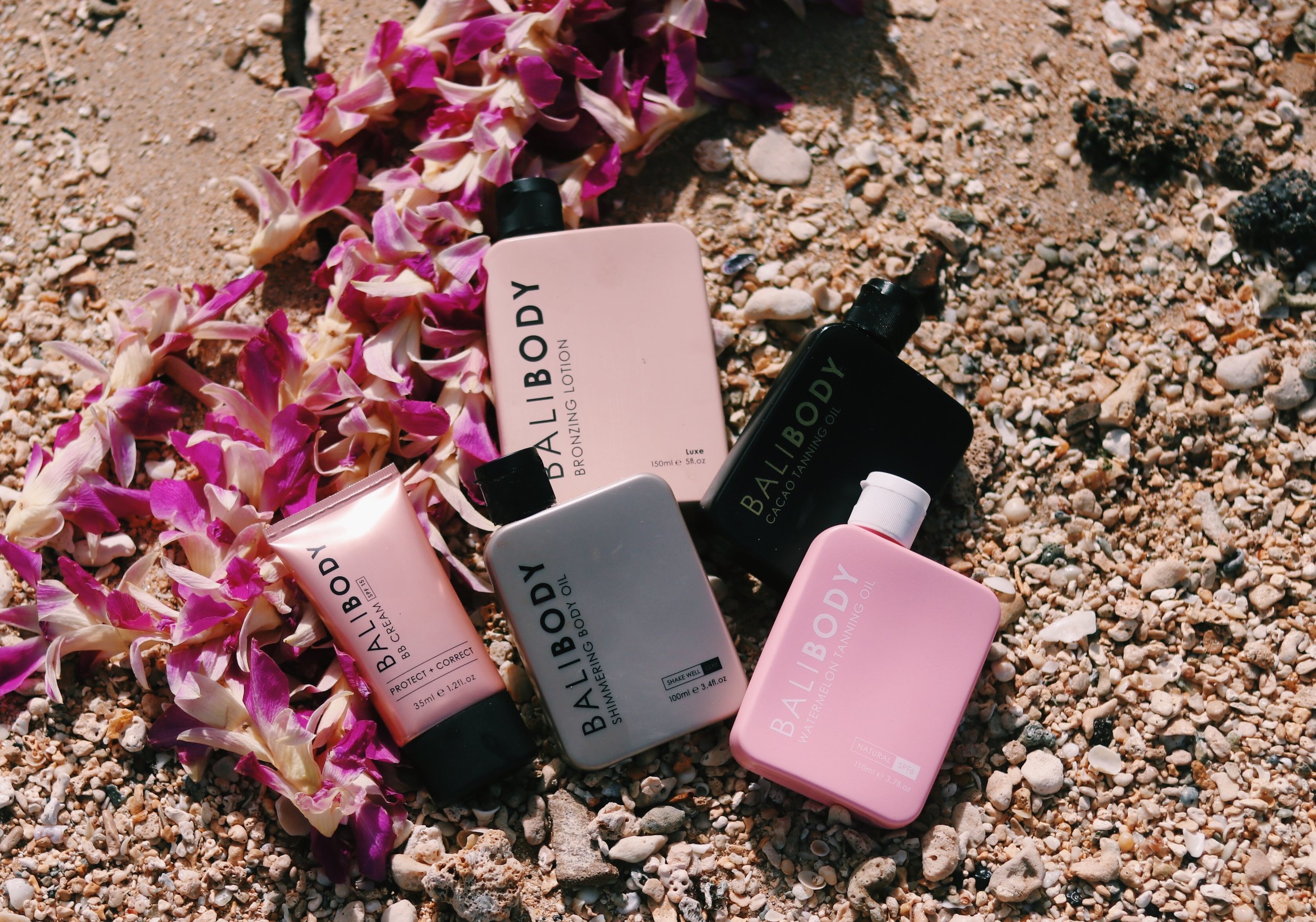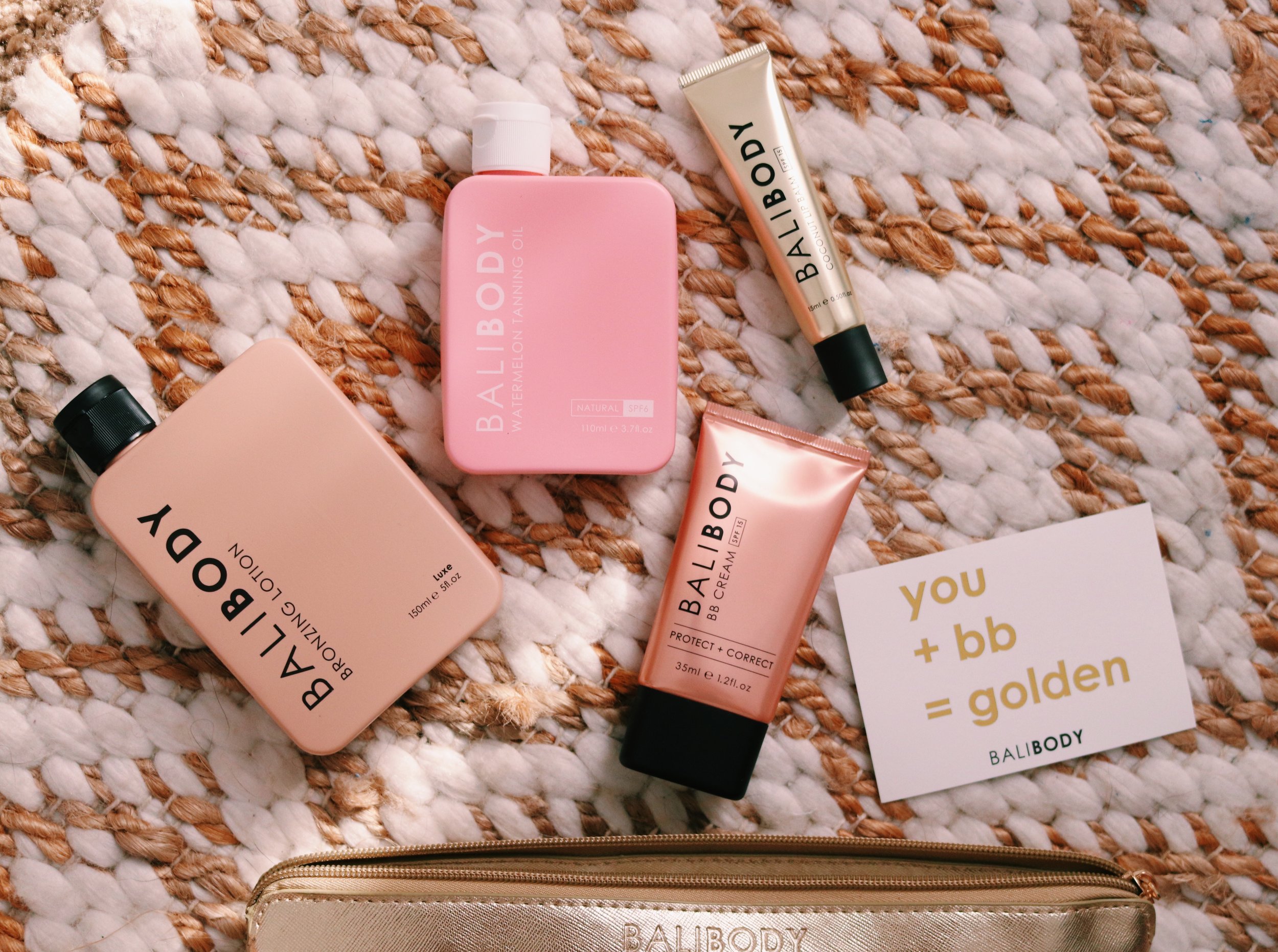 So, you've got the rundown on a few of the products, you know the best way to buy them and now it's your turn to find your fave BB Products! There is so many other options and products in their current collection and I'm sure they're all as amazing and aesthetically pleasing as the ones I've shared! Hehe!
I honestly love these products and I do use them in my every day life and I highly recommend. The answer to everyones question is YES, BALI BODY IS WORTH THE HYPE and their products are actually AMAZING!
If you babes haven't seen my YouTube review of these products go ahead and watch below! It'd be much appreciated if you took the time the subscribe to my channel too!
Thanks so much for reading babes and I hope you're all having an amazing week!