A Day With Dazey LA
Some of you may know that the last few months have been a little rough for me. Yes I've been working, and from the outside it might not LOOK like anything is going on, but there's so much you DON'T see on social media. Now, I did share that I was going through a rough-patch on my Instagram as I try to be open and as transparent as possible without exiting my comfort zone or privacy. I'm not on social media to look "better" than anyone else or to make people feel like their lives suck, I'm here to create, inspire and be REAL.
Back to the point, I've been figuring myself out since the first few weeks of February. I've been working myself, giving myself time, letting things come to me rather then pushing for something to happen and being literally so disappointed when it does come right my way. That being said, I took some time off of work, but me being the work-aholic that I am, I still worked, just not as much. It was a much needed break and one that benefited me very well at that.
I bailed on an amazing trip to Tulum with my friend/photographer, I passed up an opportunity to get taken to Coachella by a rad company and set up a friend with the tickets, I laid in bed majority of those days, but I KNEW I was making the right decisions, I knew I had to do this for me.
Finally. The spark cam back, my creativity was FUELED, my inspiration was peaking, everything was feeling great again after my almost 3 months of taking me-time. I'd gotten contacted by companies of my dreams. I went to amazing events in the last month. I got booked on more freelance modeling gigs in one month than I have in months! Im getting taken on a trip to Tulum with to two amazing companies, my content creation is something I've been so proud with the outcome of lately, and everything is slowly but surely falling into place.
I am the BIGGEST believer in setting intentions, I KNOW that when you want something and you ask for it, think about it, plan for it and dream it, it WILL happen. I KNOW that everything happens for a reason, and if something is meant to be, it will be. I've seen time and time again these "cliche" quotes work their magic on my life.
I just wanted to tell this story because self care is so important. It is so detrimental to your mental health to know when to stop and take a break. You can't always be doing amazing, you can't force happiness 24/7. Everyone has rough times, everyone goes through things, and it's up to us to know when to give ourselves a break.
Now I'm sure you're asking, "What in the world does this have to do with Dazey LA?"
Well... Let me tell you!
So Dazey LA, one of my DREAM brands to work with. The company is amazing, their mission is amazing, their owner/designer/photographer is AMAZING and I've followed them for quite some time now and let me just say, my dreams came true.
I booked the gig to shoot with Dazey LA in Palm Springs at the Dazey Desert House! (Now I know this wasn't a Coachella weekend, but I did feel like this was my second chance to visit Palm Springs since I missed out on Coachella in April.) Getting to go to the Dazey Desert House and being able to visit Palm Springs for the Dazey LA Summer Collection Lookbook Shoot was everything and more that I had expected it to be! So needless to say, I was thrilled and so thankful to have been able to work for this company for the shoot!
Now, where my 3 months of self-care correlates with Dazey LA is that, Dazey's latest summer collection is literally called, "SELF CARE SUMMER." It truly just doesnt get much better than that. Lately everything in life has been fitting like a freakin puzzle piece and I am constantly mind blown.
The Self Care Summer Collection is all about realizing that REAL life is so important. The life outside of work and social media. The YOU outside of work and social media needs to be taken care of! We can all learn to take time for ourselves, especially being an entrepreneur who works from home, it's way too easy to loose yourself in your work! Realizing that success doesnt bring you happiness. I'm a FIRM believer that you can find true happiness in ANYTHING, but money and success doesn't need to be the main reason for your happiness.
You can read more on the Dazey LA Self Care Summer Collection HERE.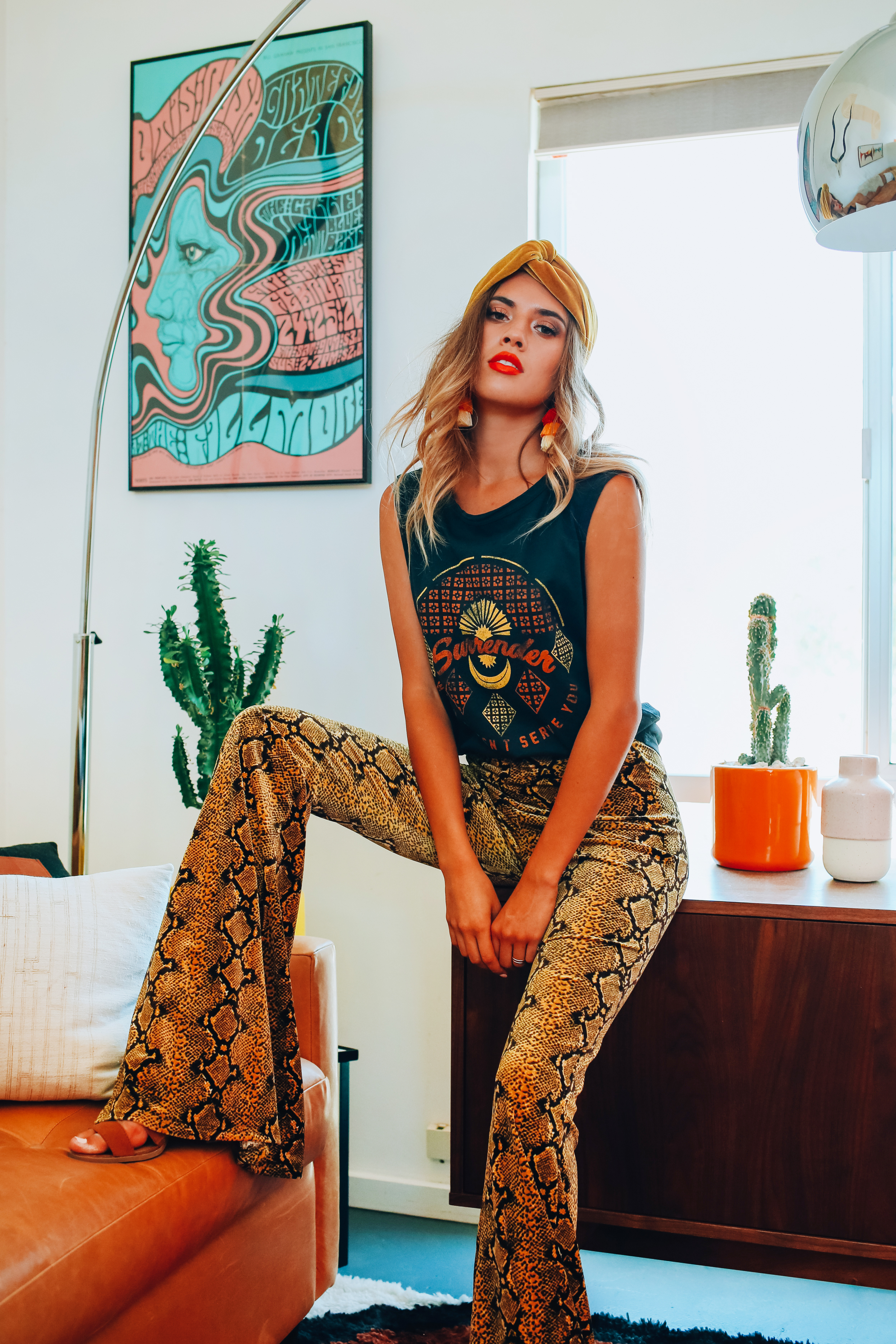 Let's talk about Dazey LA...
I adore Dazey LA for many reasons, a few of them being...
SLOW FASHION - Dazey LA is a graphic tee and now also a cut and sew clothing company! Everything is hand-drawn, graphic designed, then made-to-order in Los Angeles! Ethically making clothing pieces like this reduces the amount of waste that companies usually would dump rather than sell when the collection is "old news." Dazey LA allows for quality materials, quality make, and just the right amount of pieces being desired are made! I've done previous blog posts about the negatives to fast fashion in the swimwear world, and you can read them here. The same and even larger problem is a huge occurrence in the entire fashion industry as a whole!
DAZEY LADY SHOP - The Dazey Lady Shop is one of the most amazing things I've ever heard of and I am constantly sharing it with others! Bascially, this is a curated collection of other amazing female owned and operated brands that all have a cool, girly, and vintage vibe to them! Dazey is all about supporting fellow female entrepreneurs and they do it oh-so-well. In the Dazey Lady Shop you can find all kinds of gorgeous clothing pieces, accessories, swimwear, and more!
BOSS BABE - Dani, the owner of Dazey LA is a self-taught graphic designer who left her job working in graphic design for a huge company to pursue her passion, and then turning it into a full-time career and amazing company! I'm so inspired by this babe! She's seriously so talented and everything she does, is done SO well!
The Shoot - Self Care Summer Lookbook
The shoot was an all day event. We shot majority of the day at the Dazey Desert House (Dani's latest project and the most amazing insta-grammable house I've ever stepped foot in) We then ventured out into the town and shot at an adorable ice-cream shop then headed to shoot at a rad tiki hut hotel where we wrapped the shoot!
I knew the shoot was going to be a bit different from my natural, tropical, island life vibes, but I was so stoked with the amount of tropical-ness involved! It was so fun to shoot a style out of my comfort zone, but it did push my modeling to a new vibe and I 100% enjoyed it!
I think the photos came out AMAZING and had the best tropical touch.
Overall, the team for this shoot were all so rad, everyone was so cool, all of the looks were literally amazing, hair and make up was on point, the locations were all beyond perfect and I had such a great day!
I am truly so grateful to have gotten the opportunity to work with Dani and Dazey LA, as well as getting to spend the day away in Palm Springs, it's really the little things in life that get me going!
I'm sure you're all going to love everything about this shoot and the Self Care Summer Collection the same way I do!
Make sure to check out the Dazey LA Website to see all of the latest designs, as well as all of the amazing new cut-&-Sew pieces and check out the Dazey Lady Shop!